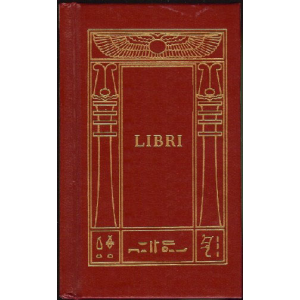 Book: Liber 027 Liber Trigrammaton by Aleister Crowley
LIBER TRIGRAMMATON SUB FIGVRA XXVII BEING THE BOOK OF THE TRIGRAMS OF THE MUTATIONS OF THE TAO WITH THE YIN AND THE YANG.
The full knowledge of the interpretation of this book is concealed from all. The Practicus must nevertheless acquire a copy and throughly acquaint himself with the contents, and commit them to memory.
"Liber Trigrammaton, being a book of Trigrams of the Mutations of the TAO with the YIN and the YANG.
An account of the cosmic process: corresponding to the stanzas of Dzyan in another system.". Received Dec 14, 1907. See also: The
holy
Books of
Thelema
(Equinox III ix)
Download Aleister Crowley's eBook: Liber 027 Liber Trigrammaton
Free eBooks (Can Be Downloaded):
Aleister Crowley - Liber 084 Liber Chanokh
Aleister Crowley - Liber 028 Liber Septem Regum Sanctorum
Aleister Crowley - Liber 231 Liber Arcanorum
Aleister Crowley - Liber 027 Liber Trigrammaton