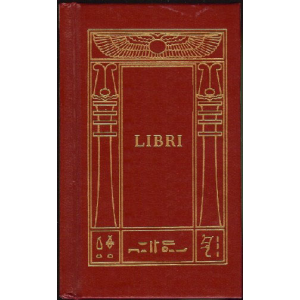 Book: Liber 007 Liberi Vel Lapidis Lazuli by Aleister Crowley
LIBER LIBERI VEL LAPIDIS LA ZVLI ADVMBRATIO KABBAL A AGYPTIORUM SVB FIGVRA VII BEING THE VOLUNTARY EMANCIPATION OF A CERTAIN EXEMPT ADEPT FROM HIS ADEPTSHIP. THESE ARE THE BIRTH-WORDS OF A MASTER OF THE TEMPLE.
The full
Knowledge
of the
Interpretation
of this book is concealed from all, save only the Sixfold Star. The Neophyte must nevertheless acquire a copy and throughly acquaint himself with the contents. He must commit one chapter to memory.
"
Liber Liberi
Vel Lapidis Lazvli, Advmbratio Kabbalae Agyptiorvm Svb Figvra VII, being the Voluntary Emancipation of a certain Exempt Adept from his Adeptship. These are the Birth Words of a Master of the Temple. The nature of this book is sufficiently explained by its title. Its seven chapters are referred to the seven planets in the following order: Mars, Saturn, Jupiter, Sol, Mercury, Luna, Venus."
See also: Equinox III, ix.
Download Aleister Crowley's eBook: Liber 007 Liberi Vel Lapidis Lazuli
Books in PDF format to read:
Aleister Crowley - Liber 016 Turris Vel Domus Dei
Aleister Crowley - Liber 206 Ru Vel Spiritus
Aleister Crowley - Liber 001 B Vel Magi
Aleister Crowley - Liber 007 Liberi Vel Lapidis Lazuli